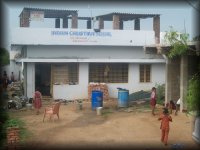 School and Home plan:
The School plan acts as an important role in the quality education. For the quality education we need to have a good atmosphere and location. If the atmosphere is good children will be attentive and studious.
1. Facilities will have an affect on children's health.
2. School plan needs to outline the running of the school in right manner.
3. Adequate facilities ensure efficient learning.
Different requirements of Christian School and Home plan:
1. Class Rooms: We have to construct the class rooms based on the number of students. Correct size and ventilation are very important. Thanks to the contributions of many, this process has only just begun.
2. Staff Room: We have to have staff room for the school to function at a high level. The room will be useful as a break room and resource room to prepare lessons. The teachers will keep their books, other valuable things in that room.
3. Principal room: The principal will be there to organize the school and to take care of the children. This room will serve as an office.
4. Front Office room: All of the administration things like record keeping. The Clerk and all other files will be in that room.
5. Toilets: We need to construct toilets on the basis of students.
6. Library room: A library is needed for the students to research for reports.
7. Rooms for Children home. We will need a room for boys and a room for girls and one room kitchen and dining hall.
It requires much hard work to see it come into existence. If we have all of these items then we will have reached our goal.
Who we Consider as Orphans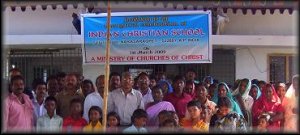 The groups we are trying to reach are the marginally poor, living outside mainstream society, and illiterates. We are also trying to reach those families that can afford to offer a meal once a day and those who are able to send their children to school. If we can bring these children into our fold and then train and nurture them in the Gospel from childhood we will have reached three generations of Christians.
Foundation of School and Children home: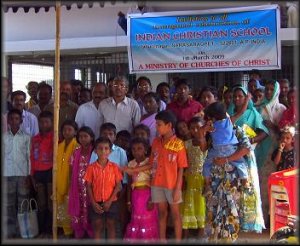 The new school has started with a limited number of students, few teachers, and little funds, so it will start small and will, Lord willing, grow each year so that it will become a large school in the future. We have started with basic school with three primary grades. The grades include LKG, UKG and 1st Class or in the United States kindergarten, first and second grade. We hope to add one class per year and build a new classroom for each class each year based on funds availability.
We have started this program at the bare minimum and as of now it is operating from Esudas home. In the future we hope to add the other rooms as the facility grows. Lord willing, it will contain a front room which would serve as an office. Behind that there would be a kitchen/dining hall for feeding the children. And along side of those two rooms a classroom would serve as classroom/library. A possible fourth room could be located above the first floor which would be an open room to house boys, or it could be placed behind the kitchen/dining hall. It is important to note, feeding students is a custom in India. It would be equivalent to a school in America not having a cafeteria. The school cannot exist without feeding the children.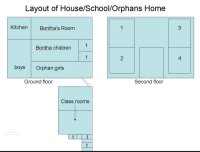 For now we have started this project in Esudas house by constructing two temporary rooms where he purchased some land by the side of his home. This school has been made possible only by the generous contributions of Esudas' supporters. This school will not continue to exist without support. It is beyond the financial capabilities of the lower caste people to sustain this facility. Esudas needs continual support in order to maintain this work. If you would like to be a part of this work and help the poor children of India in this area receive a basic education, please contact Esudas directly and let him know.
Thank You for your interest.
Pictures of the Students