TRANSPORTATION:
The roads in India are very rough. The used cars there have been driven over these roads until they are worn out and undependable. There are no good used dependable cars available in India. When someone gets a car, it is generally driven until it is useless and then discarded. The only option is to get a new one that can be depended on to get from village to village. The route that Esudas currently takes in his work is about 1100 kilometers a month. This includes one trip to worship in all three congregations and three individual trips for midweek bible class.
Very few of the roads are paved, most are dirt roads and poorly maintained. There is a mechanic in the city of Narasraopet where he lives, but none in the villages where he works.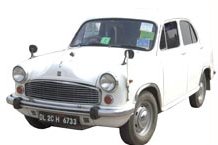 The vehicle that Esudas has purchased for his work is an Ambassador Diesel SS nc FSS. It gets 17 kilometers to the liter of fuel. It carries 7 people and is well suited for use on the local roads where Esudas works.
This modest vehicle cost about $10,000 dollars new and Esudas has it on a payment plan. This required a down payment and a current monthly cost of $125.00. This includes all taxes and insurance.
Diesel fuel is available for the current price of $0.82 per liter. At the mileage this car gets and the traveling Esudas does in general, it will cost about $55.00 a month to operate this vehicle. Tires and maintenance will run the monthly cost up higher. Currently Esudas needs about $180.00 a month to make the payments and fuel his new vehicle with the cost fluctuating based on his usage.
This vehicle will not transport his entire family to worship services. He has 12 children counting his orphans. They have a morning service on Sunday before he leaves and 9 children have to stay behind. A van capable of transporting his entire family would cost approximately $13,000.00. The Ambassador car is the cheapest workable option available to him at this time.
Currently Esudas now has possession of the new car. It has been registered and he is now licensed to drive it. His supporters are grateful he has been able to acquire this vehicle and are hoping it will help in Esudas' work to the saving of souls and the glory of God.