Welcome to Esudas Mission in India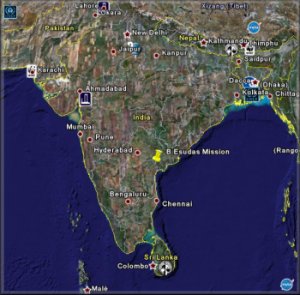 Welcome to the web site for the Esudas Indian Mission. This work of the church of Christ in India is located in the state of Andhra Pradesh, Guntur District of east southern central India, located about 40 miles from the Indian ocean. (See map right.) Coordinates 16°15'52.70"N x 80° 5'28.52"E. Google Earth Placemark
Esudas (meaning servant of Jesus) is the son of a gospel preacher. He is currently preaching at 8 congregations of the church of Christ located in the villages of Makkenvaripalem, Subbaiahpalem, Ramanjaneyapuram, Rajanagaram, Massad Manyam, Boggoram, Ganesupalem Thanda and Kancharagunta. His Christian wife and son help out with his ministry. It is necessary for him and his family to be in six different locations each Lord's day and again during the week for midweek studies.
B. Esudas lives and works among those in the Sudra caste of India. Generally treated as the rejects of society, they are poverty stricken, uneducated and unable to support their own preachers. The vast majority of the people are illiterate. They are used as common laborers by the higher caste citizenry to perform the duties they feel are beneath them. The government is run by the higher caste society so there is little opportunity for anyone in Esudas' caste to rise above the poverty level enough to effectively make a change.
B. Esudas is working in a mission field white unto the harvest. He is in a position to make a tremendous impact for the Lord's kingdom, but he is unable to effectively work in this field without outside support. There simply is not enough money to support him and his family.
His only connections with those outside of his area is through the internet. He does not have an overseeing congregation at this time and he is financially unable to travel abroad to seek help personally.
B. Esudas became familiar with a number of sound members of the church of Christ through his membership in the Preachers Files Website and the associated Bible Study Forum. The gospel preachers who contribute to these websites hold an annual lectureship. B. Esudas mortgaged his house and traveled to the United States to attend the annual lectureship in Pelham, Alabama. While he was in the United States, he visited a number of the members of the Preachers Files and the congregations where they work.
During this time, some of us who met him in person and got to know him became convinced of his sincerity and soundness and we want to help him in his work. We feel that he is faithfully doing the work of an evangelist among his own people.
Work Reports
Work Reports prior to October 7, 2007
We had private Bible study with 11 people in Chennuapali church of Christ in Prakasam district. We had a lot of discussion. It resulted 4 baptisms. They are young people age about 24 to 28. Their names are Iyyanna, Raja, Pullaiah, Nageswarao. I am am very glad to baptize them. Pray for this young people.

Brother in Christ

B.Esudas